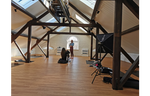 We are supporting the Pink Ribbon Foundation today at Station Mill Gym and Studio Centre, Alresford
Scott O'Shea and the team at Station Mill have launched a great initiative today with an Open Day to support the Pink Ribbon Foundation and breast cancer. To celebrate the event, Loulou and the team will be at Station Mill today showing off our latest collection. 15% of our sales today will go to Pink Ribbon.
If you haven't yet visited Station Mill then take a look. The facilities are amazing. From its wonderful heritage building in Alresford, Station Mill seamlessly combines the very latest in fitness technology, housing the UK's first Techno Gym Skill bike Studio, alongside the serene Yoga and Barre studio spaces.  Therapists and Medical Practitioners are onsite, everything from healing sound therapy to mainstream physio and all that lies in between.
Why not come along to the Open Day if you can? You can find out more here: https://www.stationmill.co.uk/ or you can visit the centre here:
Station Mill,
Station Road,
SO24 9JQ
Weekdays 06:00-21:00 
Weekends 08:00-18:00